Hi,
Welcome to my little corner of the internet. This is a place to share announcements about my novels and other writing projects. So take a look around and explore. Thanks for dropping by.
Announcement
I'm very pleased to announce that my second novel is finally finished and available for sale.
Flying Lessons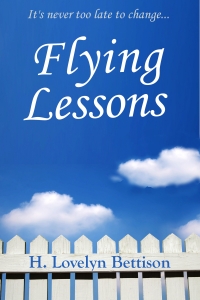 Henry and his daughter, Chandra, are stuck. Haunted by the past, they sleepwalk through life until unexpected relationships shake up their perceptions of reality. Henry's new friendship with a neighbor blurs the boundaries between the living and the dead, and Chandra starts to see possibilities she's never noticed before.
What people are saying …
[Flying Lessons] is very well written, the story line moves along seamlessly and culminates beautifully. The characters are well developed and it is easy to identify with them. The author shows great talent and I look forward to reading her other books. The book was truly unputdownable for me and I read it in one sitting … Joana James from Book Wormz
It's always nice to step away from a book type and experience something different. I have found that amazing difference in Flying Lessons … Melissa Ringsted from There for You
Read a sample
Smashwords
Barnes and Noble Nook
Amazon Kindle