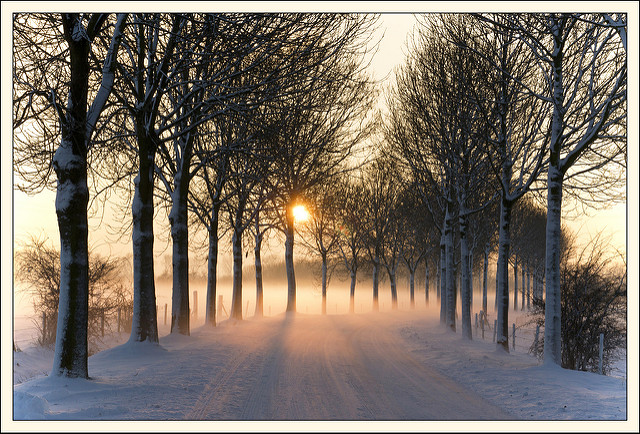 There is nothing like curling up with a novel on the sofa in front of the Christmas tree. The holiday season makes me long for a good book. Heck, every season makes me long for a good book.The Christmas classics are great, but you know I prefer something a little unusual. My reading tasks tend to lean toward the magical. Sometimes I through in a little horror too for good measure.
The Christmas classics are great, but you know I prefer something a little more unusual. This reading list tends to lean toward the magical. Sometimes I throw in a little horror too for good measure.
Here is my list of winter reading complete with a little magic, a dash realism, a pinch horror, and a whole lot of fun.
The Snow Child by Eowyn Ivey
One day Mable and Jack make a child out of snow. In the morning when they awake they find the snow child they made demolished and the scarf and mittens it was wearing gone. Could the snow child have transformed into the small girl jack sees running through the woods?
BUY IT
The Red Garden by Alice Hoffman
The Red Garden traces the history of a Massachusetts town called Blackwell. The town is home to a peculiar garden where only red plants grow. The book is a series of interconnected stories that are heartbreaking, magical, and lovely.
BUY IT
The Peach Keeper by Sarah Addison Allen
The Blue Ridge Madam, the biggest house in Wall of Waters, North Carolina has stood abandoned for years. When a body is dug up under the peach tree on the property two local women work together to unravel the mystery of who was buried there and why.
BUY IT
The Book Thief by Markus Zusak
In WWII Germany Liesel Meminger manages to survive by stealing things with her foster father. Her favorite things to steal are books.
BUY IT
The Memory Keeper's Daughter by Kim Edwards
One snowy night Dr. David Henry delivers his own twins in his office. The labor is difficult and his wife, Nora, is sedated during the birth. The son is healthy, but the daughter has Down Syndrome. Dr. Henry orders his nurse to take the girl away before Nora wakes up in order to protect her from the heartbreak of seeing her daughter's condition. This act changes the lives of everyone involved.
BUY IT
Hogfather by Terry Pratchett
This is the 20th book in Pratchett's Disc World series.
Usually, on Hogswatchnight Hogfather dresses in red and brings children gifts, but he is missing. Death has to take over Hogfather's duties while trying to find his captors. Hogfather is a funny satire about Christmas and belief.
BUY IT
Landline by Rainbow Rowell
Georgie and Neal are struggling in their marriage. Georgie chooses to stay at home to work during the Christmas holiday while Neal takes the rest of the family to Omaha. When she tries to call Neal the telephone lines cross and Georgie ends up talking to a version of her husband from the past.
BUY IT
NOS4A2 by Joe Hill
Victoria McQueen can make a magical bridge appear. When she rides her bike across it, she arrives at objects that have been missing. Charles Talent Manx kidnaps children in his magical Rolls Royce and takes them a twisted amusement park called Christmasland.
BUY IT
Smoke and Mirrors by Neil Gaiman
This a book of delightful short stories. Gaiman certainly doesn't disappoint here. The story called "Nicolas was …" is especially appropriate for the season.
BUY IT
Holidays on Ice by David Sedaris
Have you read any David Sedaris yet? Try this one to get you started. This book of personal essays is hilarious. You'll enjoy Sedaris's quirky perspective on the world.
BUY IT