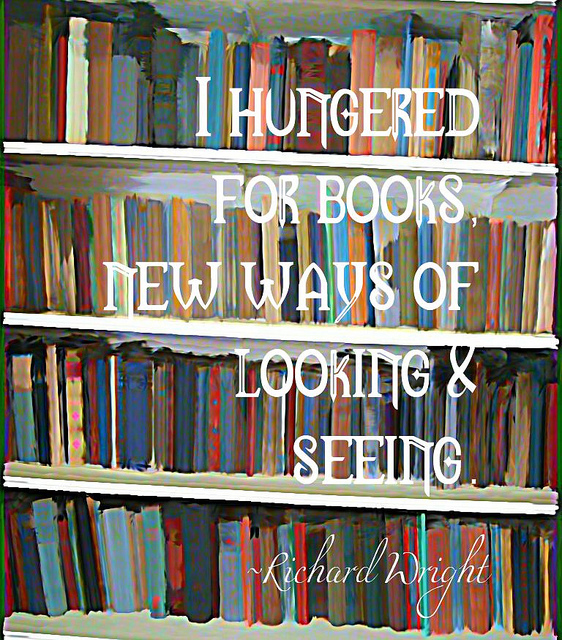 Can a story change a life?
Ever since I was a little kid, I used to like to go to the library. I'd walk amongst the stacks, easing the books from the shelves. I'd collect them in a pile and walk them up to the front desk always mindful of the number of books I was allowed to check out.I'd go home and sit on the floor in my bedroom leafing through the books. I read stories that took place and other lands and many that took place in this country that I had grown up and. I saw pictures and books of fascinating things that existed on the other side of the world and those pictures inspired me to travel. Opening each new story was like opening up my imagination.
I'd go home and sit on the floor in my bedroom leafing through the books. I read stories that took place in other lands, some invented and some real. I read stories set in surroundings that seemed very much like the one I lived in myself. Opening each new story was like opening up my imagination.
Did those books change me?
When I was 11 years old, I read a book called Are You There God? It's Me, Margaret.
 This was the book that made me want to write books. I'd always written for fun, but reading that book was the first time I realized that some people wrote for a living.
I've written about stories before and how the story that we tell ourselves can affect the way we live our lives, but how do the stories we read change our lives?
This idea brings to mind religion. I am not a religious person, but the subjects interest me and I have spent some time looking into the stories in religious texts. These stories drip with meaning. They can be used to communicate a moral way to live. They can influence the way you think and behave. These stories have changed lives.
Stories can take you to foreign lands and put you in the shoes of someone completely different than yourself. They can immerse you in a life far outside of your experience. They can change the way you see things and teach you compassion for people you might've never given your empathy in the past. That's the beauty of a story.
Should fiction have a message?
I once read an article that said that a novel with the message is just crappy fiction. At the time I was feeling quite insecure and reading that made me feel awful. I thought I must write crappy fiction because I do have a message to share that's why I'm writing. But when I thought about I realized that every writer has a message to share that's why they write. If we had nothing to say we wouldn't have a story to tell.
When I started writing "Isle of Gods" I was interested in the idea of destiny. I was interested in exploring how we are all connected and how sometimes we hand the responsibility of our lives to someone else instead of taking control of it ourselves. I also wanted the book to involve waves and water. It evolved over time, turning into something quite different than I thought it would be, but something I still really liked.
So to answer my own question can a story change a life? It can. It can bring about the deepest, most profound change. Stories get into our souls and make us feel. When you connect a new idea to a feeling that drives it deeper inside, giving roots, making the change easier to obtain.
I'm not a great storyteller yet. I don't even pretend to be one. I march along doing the best I can with words. My hope is that one day with enough practice I will stumble across something wonderful and hopefully, if the muses grant it, one day I'll come up with a life-changing story.